The Granny Express is a vechicle in Granny Torrelli. Granny Torrelli drives it on the train tracks when Pardo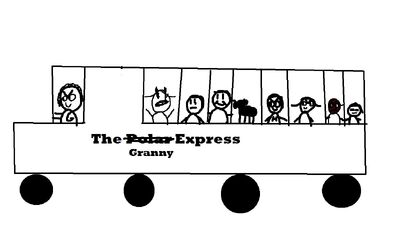 is trying to untie an imposter of Nero and Pardo is ran over. There are usually passengers in the train, and Rosie, Bailey, and Nero are always there. Pardo is never a passenger.
Theres some lore behind the granny express. You know the movie about The Polar Express, well, after that movie, Granny Torrelli stole the polar express and made it The Granny Express.
Other Expresses
Edit
Sometimes, another Character is driving the Granny Express, and the words on the train change to The <Insert Driver here> express. The most common character doing this is Nero.
Granny Torrelli is always a passenger in the trains.